Al Bazar Milano and an interview with Lino Ieluzzi
On my three week vacation around Europe there were only a few #menswear boutiques I really had decided to visit. Al Bazar in Milano was however a must.
Having kept an eye on Lino's styles in Pitti for years I had developed an interest for his over-the-top Italian styles. Strongly contrast-polished shoes and embroidered ties are not something you should wear in Scandinavian business-life. However, they are just the tip of the iceberg called Italian style.
Al Bazar is all about light, unstructured, unlined and boldly patterned double-breasted jackets, Neapolitan style business suits and basically anything a man might need in his wardrobe.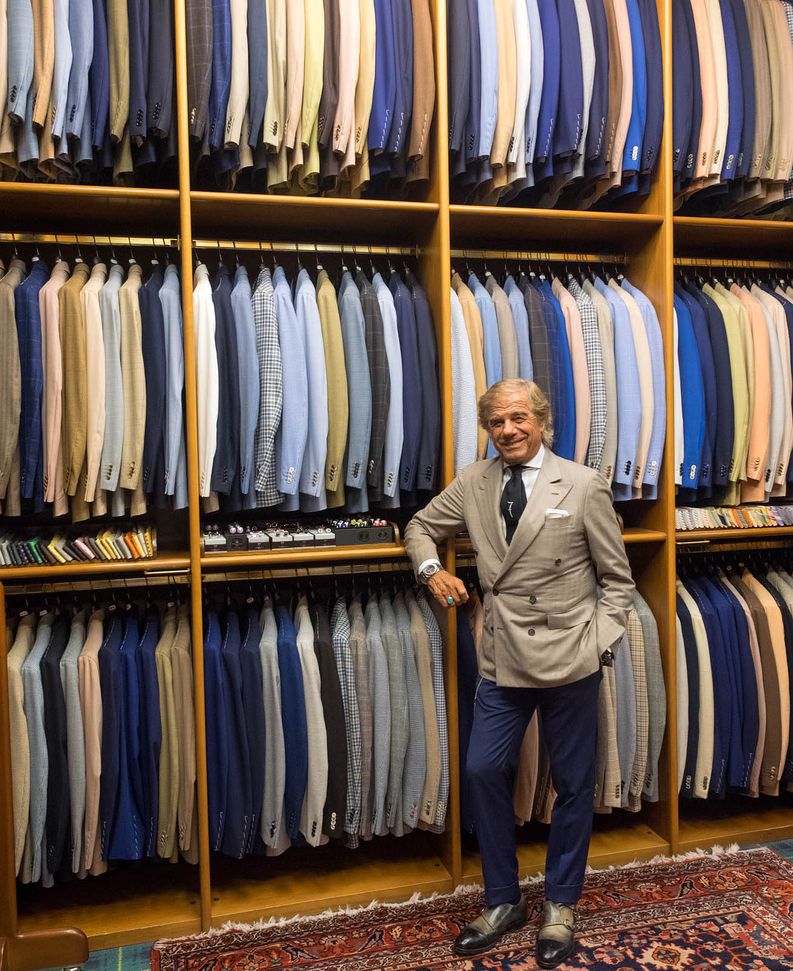 Lino Ieluzzi
First of all, you can not talk about Al Bazar without talking about Lino. He has succesfully branded himself as one of the icons of menswear and Pitti Uomo street photos.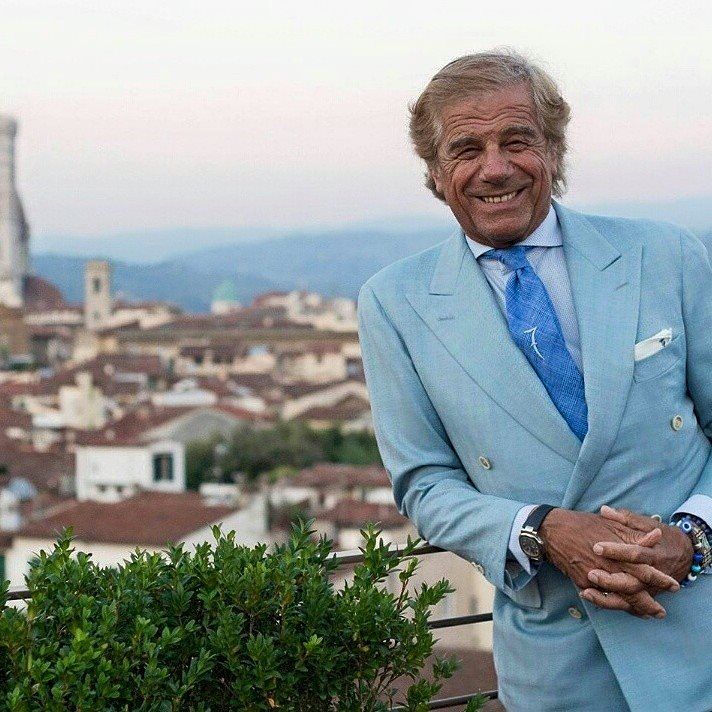 Lino has made a trademark out of double-breasted unconstructed jackets, #7style ties and two-colored kiltie and double-monk shoes. He is beyond traditional sprezzatura - he wears what he likes and gets away with it.
Lino definately can be called an old-school gentleman. If you're interested, I really encourage you to read The Rake interview of him here at Al Bazar website. 
...and just to keep you interested, I quote:
The only thing a real man should do in the house is make love to his wife and polish his own shoes. 
Al Bazar Milano
What first strikes you in Al Bazar is the size of the boutique. It's quite huge. Not as big as Gieves & Hawkes on Saville Row nor Rose & Born in Stockholm, but it's packed! One room for casual summer wear, one for suits, one for trousers and one for jackets. From the counter you find more accessories than you should ever consider wearing.
The next thing is the private label collection. 90% of the items in the store are private label "Al Bazar". Also 90% of the items are made in Italy. There are few exquisite brands they've chosen to sell but mostly all models and fabrics are hand picked for Al Bazar by Lino himself.
I was greeted with warm smiles and impeccable english by the store manager Gianpaolo Alliata. Having a good discussion about Al Bazar, eCommerce and #menswear scene Lino joined the discussion as well. He doesn't speak english (though might understand well more than shown) but was translated through Gianpaolo.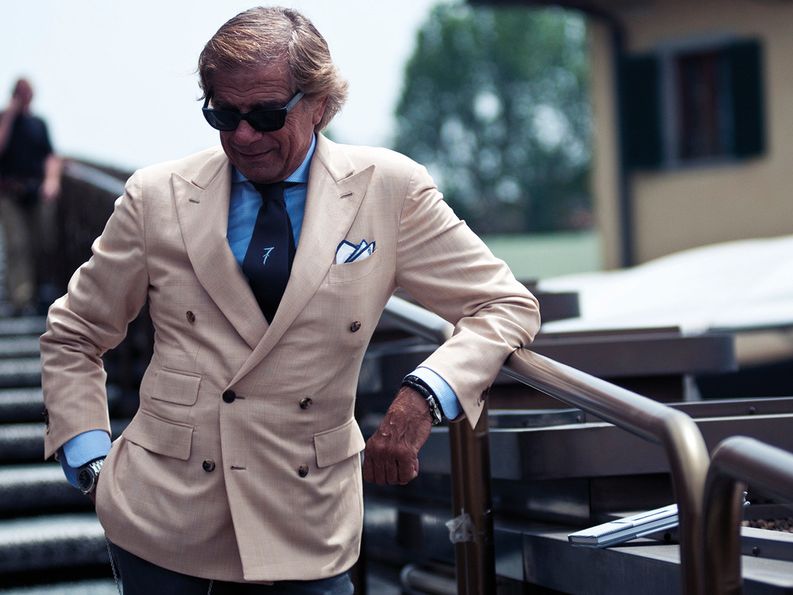 Al Bazar item range and prices
You won't find a black suit for the Wallstreet office day. Black is for fashion - Lino is all about style.
Indeed, the walls are covered with bold colors and patterns. Suits and jackets are light and show many hand made details.
Al Bazar sells mainly RTW. They have two in-house tailors and more freelancers if necessary. So, even though made-to-measure is offered, you'll get the perfect fit even for the RTW.
Unstructured and unlined double-breasted jackets are Lino's signature piece. He has made an art on mixing them up - even with jeans. Jackets are made from the best fabrics. You won't be having a wrinkled suit even in the hottest Italian weather.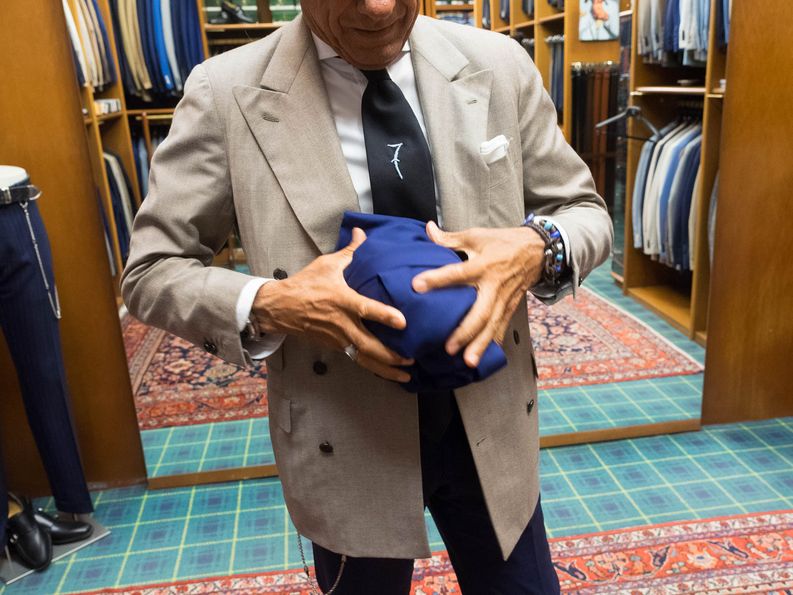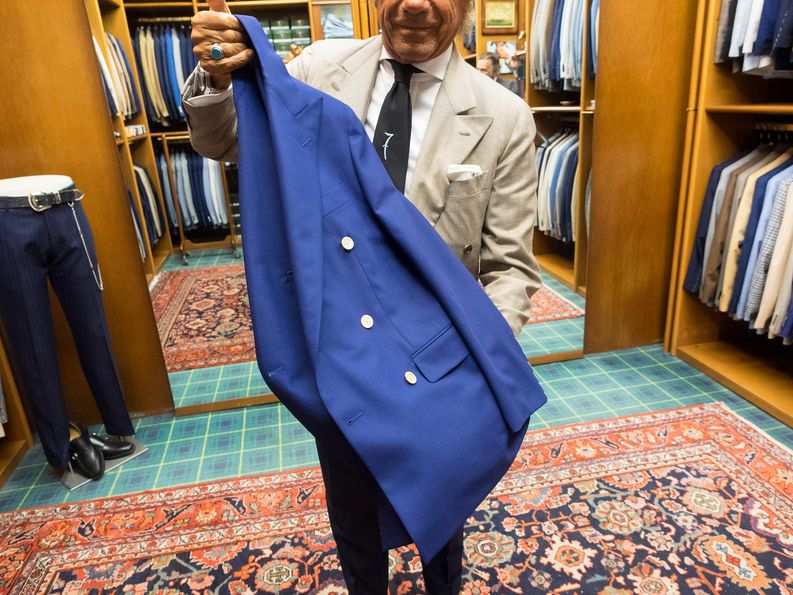 Tie is something you definitely should buy when visiting Al Bazar Milano. They are made from the same Lino's hand picked wool fabrics as the private label jackets and totally hand made in Italy. You can find some superb patterns here!
Jackets start from 820€ and double-breasted from 980€. Shirts are around 140-150€ and shoes 380-480€. The hand-made ties are just 120€. Very standard pricing - given the quality and unique style, I might even compliment the prices.
Al Bazar jacket would've made a perfect souvenir if I wouldn't have had some suit-projects coming up in Finland already.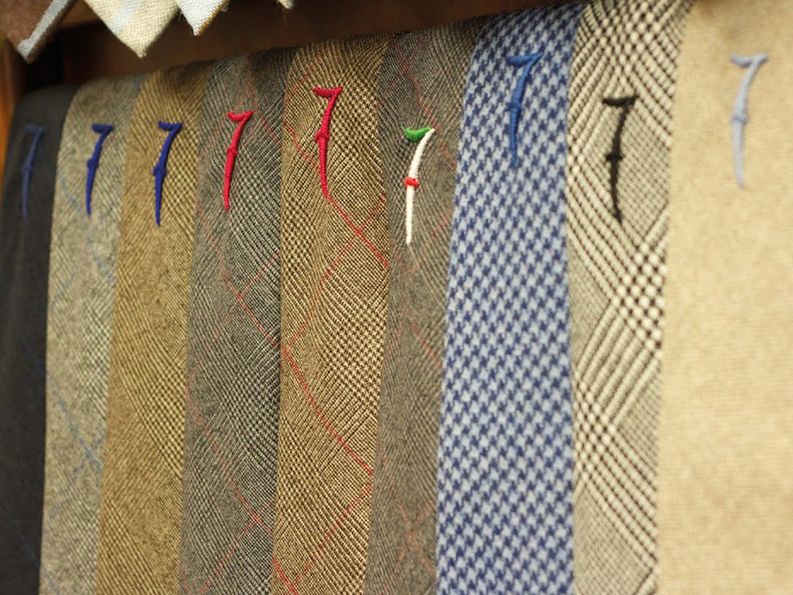 Whatever you buy, you get a complementary wardrobe refresher. It is like a super large wunderbaum but more subtle. The scent is a fresh citrus mixed with manly italian flair. You might though need a personal walk-in closet to use this, or you'll get some comments from your spouse. But that we all have naturally - don't we?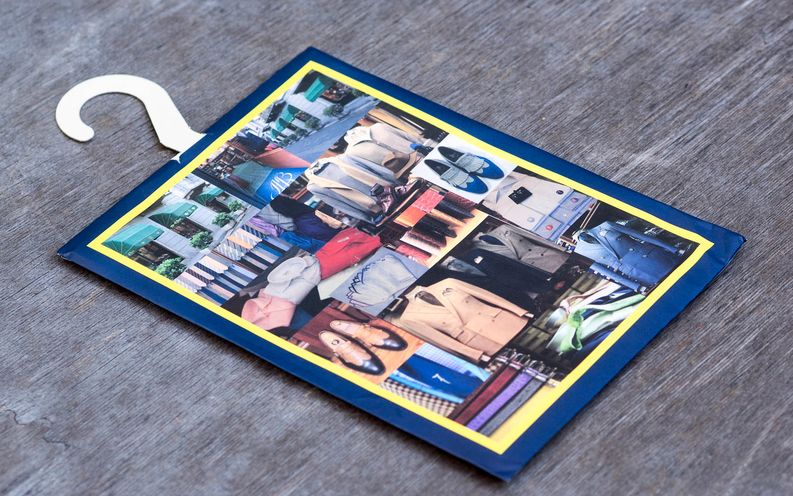 Shopping online
Al Bazar doesn't have a web shop but it's coming. Lino believes in personal service and well-fitted clothing so you should not expect getting yourself an Al Bazar double-breasted jacket online. However, keep an eye on the up coming web shop for those great accessories you've seen on Lino!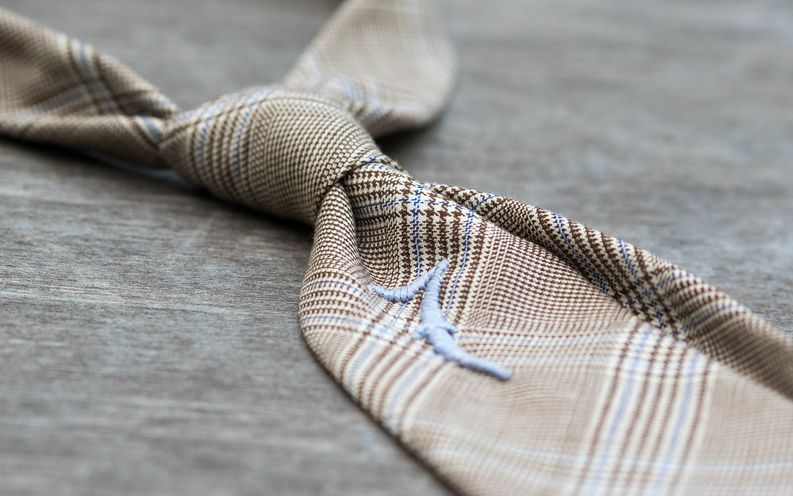 The experience
Easy going, straight forward and friendly - just what you would expect in Italy. I'ld rather visit just Al Bazar than the whole street of uptight Saville Row boutiques.
I really do love the way how Lino has given the story and person for Al Bazar. And the fact that you actually can meet him on the site. For me it makes all the difference meeting the entrepreneur himself or at least knowing who's behind the company. Still the friendly service of the kind and well-spoken store manager was so good that I noticed to be even a bit disappointed not getting a photo of him in the end.
I even forgot to take more pictures of the shop and items due to the great discussion and trying to still see everything.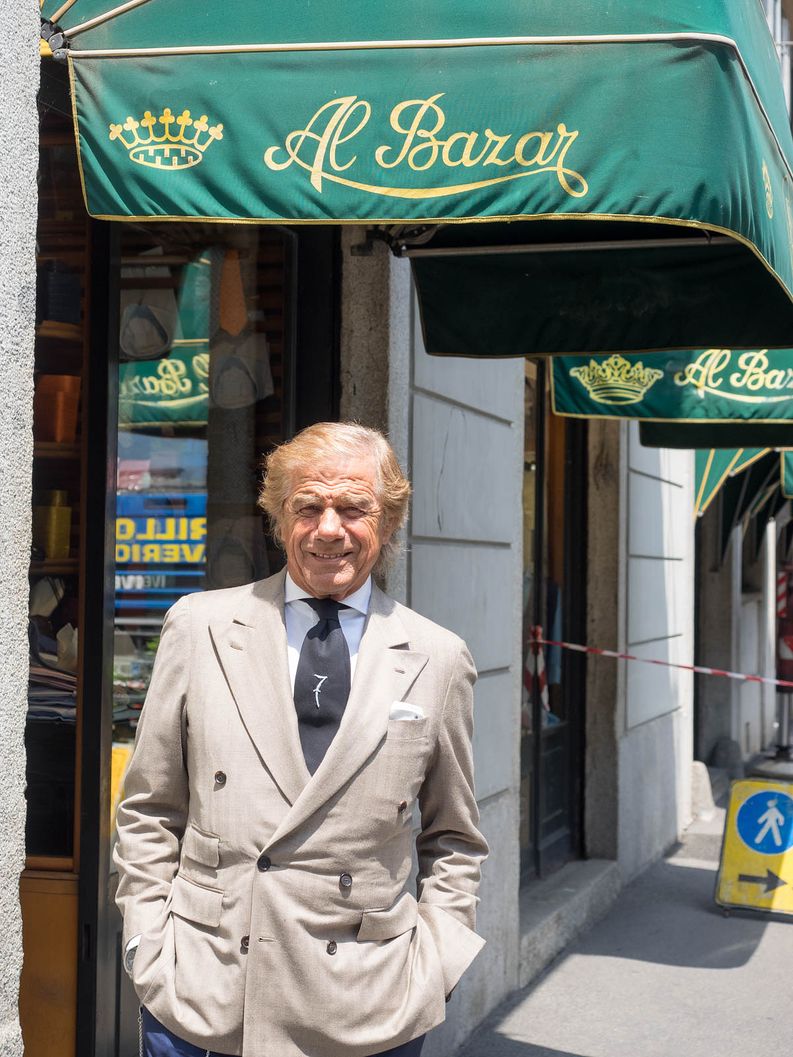 Mind you, that I had not planned any blogging about the trip nor had I agreed on my visit in advance. We went in like two travellers that we were - not showing any "purchasing power" nor style. However, we were still treated as an old loyal customer which I respect highly. Going in like that to some of the boutiques on Saville Row would not make us that welcome.
This is the place to visit on your trip to north Italy!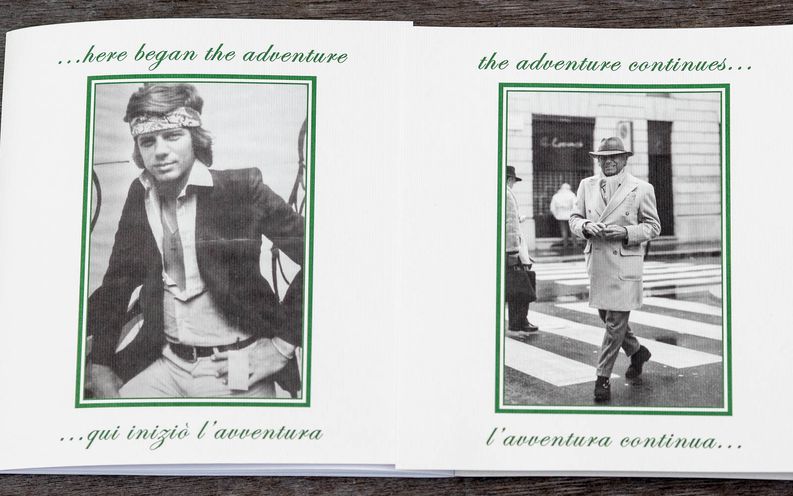 ps. Stay tuned for a review of #7style tie. The no1 souvenir from Milan!