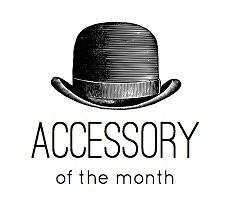 Raw silk tie
Shantung is a rough silk weave that's perfect for business casual outfit. It has raw uneven feel to it that creates rich texture and great knot.
Shantung ties are quite thick and therefore are usually unlined. This makes the tie even more interesting as hand-rolled edges give it personality and reveal the handmade art of tie making.
The shantung tie we examine here is by compliments of Exquisite Trimmings.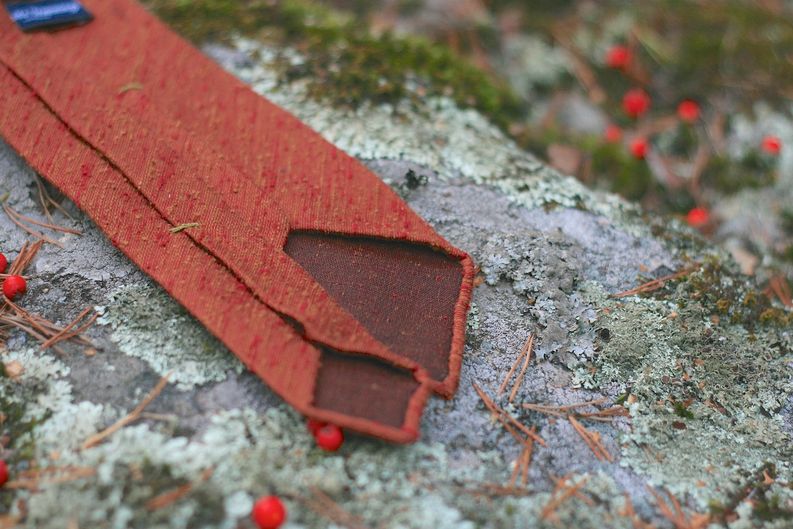 Shantung tie makes a perfect FiH knot
Shantung usually makes a really nice FiH knot. However, you will want to avoid windsor knots due to the rather thick fabric. Double FiH (/Prince Albert) is an even better knot if you expert it well enough to make it tight. 
I personally prefer double FiH with Shantung ties. It makes the most wonderful asymmetric knot to finalize a truly sartorial look.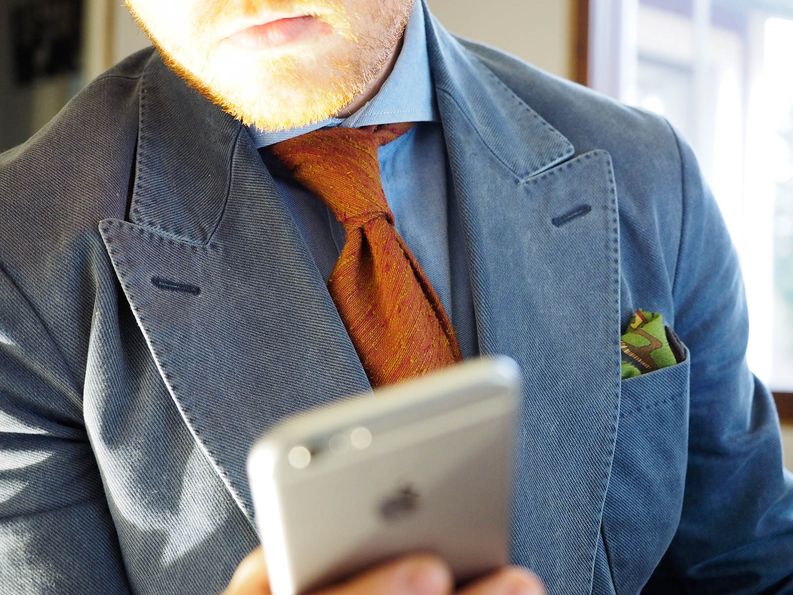 How to match shantung tie
As shantung is so rough and casual, you might want to match it with more casual outfit.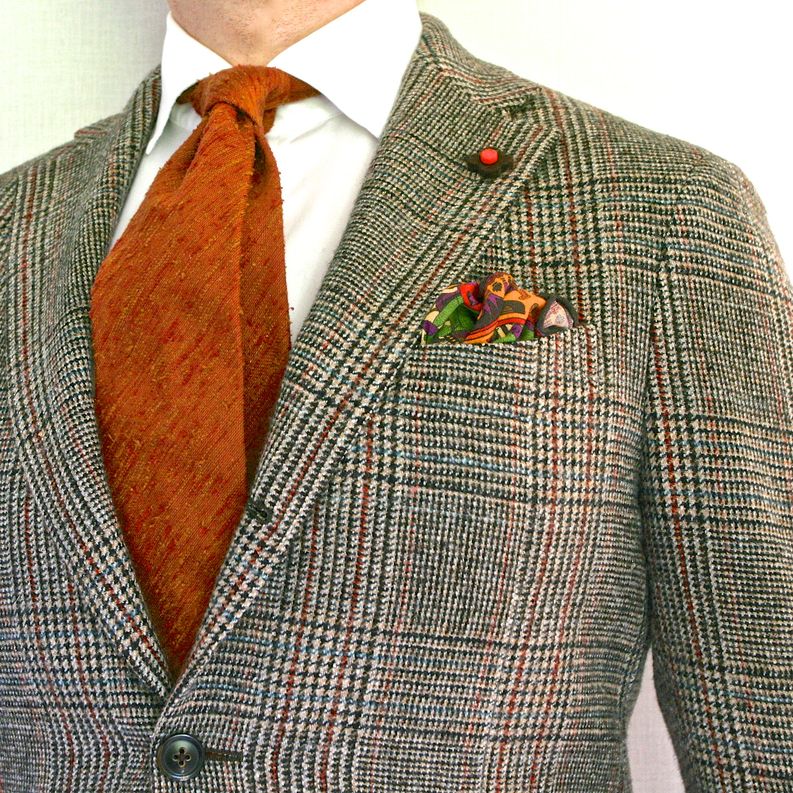 Perfect combination for shantung is tweed jacket or a thicker winter time sportscoat. Also thicker knitwear such as shawl collar cardigang can be perfect with a shantung tie. I personally like to match my marled rust shantung tie with denim-like double breasted jacket with patch pockets.
As a pocket-square material you might want to choose wool or silk-wool blend pocket-square to compliment the raw texture in the tie.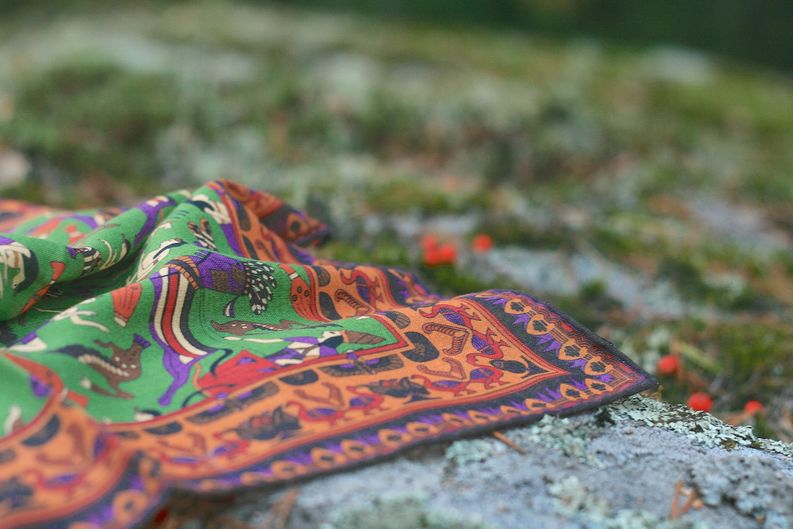 Shantung tie pricing
Exquisite Trimmings offer their own private label Shantung ties with a very inspirational color scale and affordable pricing. Whereas other highly valued brands price their quality shantung ties on over 100 pounds, "ET" offer similar quality with only 75 pounds. They also have good sales now and then.
Great thing about Exquisite Trimmings private label ties is that you can choose between two widths and and lengths. This allows one to proportion ones tie two his own width or prefered lapel width. I personally also prefer to have quite a lot of length so that both ends of my ties more or less match.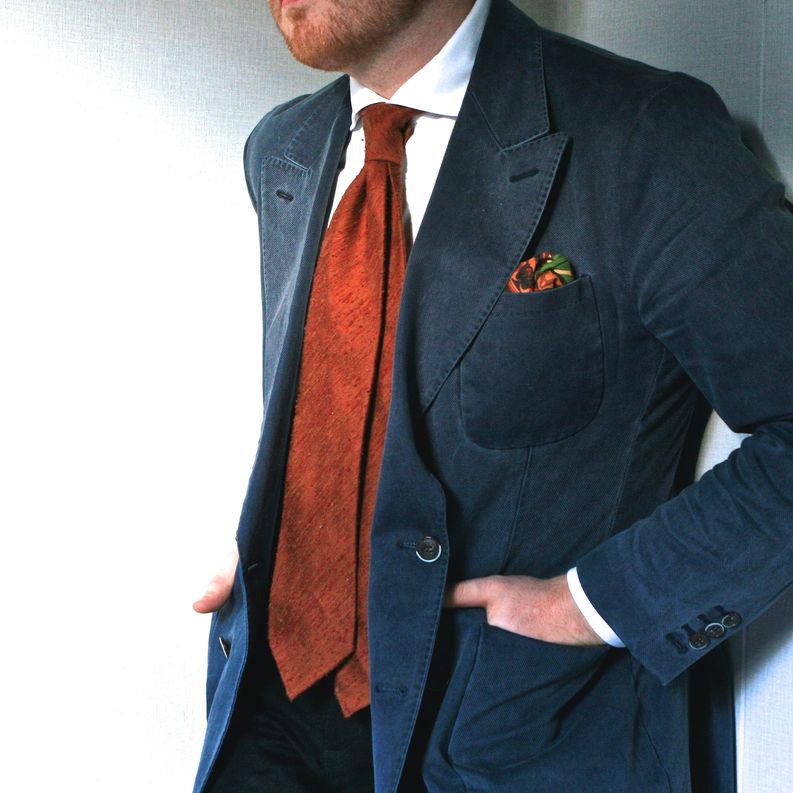 The sum up
Shantung tie should not be you first nor the second purchase when you start building your wardrobe. However, when you have the basics covered this is a clear winner for those sartorial ambitions you have for making a casual outfit stand out from the crowd without being flashy.
Opt for an earthy and warm colour, match it with a casual unstructured jacket with some texture and woolen pocket-square with same earthy colour scale and your good to go!
Shantung tie is definately a winner for those chilly nordic autumn and winter days.